September 29-30, 2017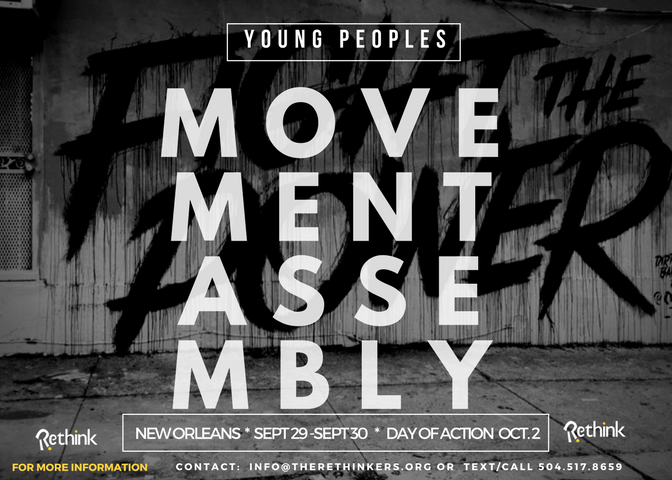 the young peoples movement assembly is a national gathering for black and brown (queer, documented/undocumented, trans, non-english speaking/english speaking, muslim) youth organizers (15-25 years old) to come together to develop a shared strategy for sanctuary for black and brown youth – a strategy that embraces all of their intersecting identities. we are looking for youth organizing organizations across the country to send their lead youth organizers.
while rethinekrs believe we should live in a world with no police or prisons and they work towards that goal, we also acknowledge that historically there has never been sanctuary for black and brown youth.
the young peoples movement assembly will be a sacred, innovative, healing, and creative space where youth will explore:
1. what safety/sanctuary is for us
2. how we engage in projects of self-determination to create sanctuary for ourselves
3. how we create freedom/liberated/no harm zones across the country (how do we make schools freedom/liberation/no harm zones? what does transformative justice look like in those zones? what are the alternatives to police in schools and in our communities?)
4. what solidarity with one another and accountability to one another look like moving forward?
the gathering is two days – friday, september 29 & saturday september 30. october 1 can be a travel day or groups can choose to stay in new orleans to participate in a solidarity action on october 2.
we are working to ensure that the only cost an organization has to consider is the cost of travel. please fill out the form in its entirety so that we can be sure that everyone attended is welcomed, loved, and cared for.
one,
rethink squad
register for the young peoples movement assembly here:  REGISTRATION